The Venn Rev 35 TUC tubular disc wheelset is made using continuous tangent layup carbon rims and is designed specifically for disc brake bicycles and tubular tyres.
Wind tunnel data shows the 35mm deep rim compares very well to much deeper profile rims while offering superior handling in crosswinds and a reduction in weight. The filament wound rims are 27mm wide which results in a wheelset that is laterally very stiff, but also vertically compliant which increases the responsiveness.
Specifications:
Rim Technology
Continuous Tangent Layup
Rim Depth
35mm
Rim Width
27mm
Hub
Venn Rea disc brake
Tyre System
Tubular
Braking System
Disc brake
Spoke Count
24 front/24 rear
External
Sapim nipples
Weight
1,280g (wheelset)
Parts Included
Rim tape
Continuous Tangent Layup
In contrast to the standard carbon rim manufacturing process where a rim is composed of up to six distinct segments of carbon fibre, Venn's continuous tangent layup process results in just a single length of UD carbon fibre around the entire rim circumference. There are no individual segments and thus not gaps in the layup and no overlaps.
Aero Data:
The Venn Rev 35 is one of the few rims with verified wind tunnel data. You can hold high confidence that the rims not only look aerodynamic, but actually are proven to be aerodynamic.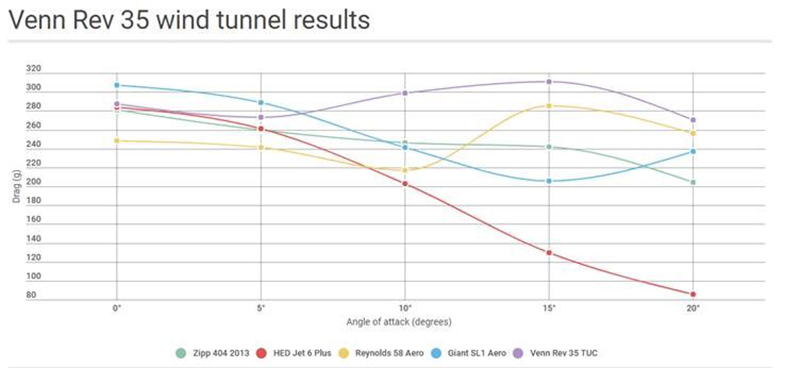 This graph compares the Venn Rev 35 with some extremely aerodynamic competitor wheel brands. It shows that the Venn wheels compare very well to the much deeper profile rims, whilst offering superior handling in cross winds and much lower weight due to the 35mm depth and 27mm width.
Venn Rea Disc Brake Hub:
Axle Compatibility
Axle compatibility: Thru Axle, 15mm Front, 12mm x 142mm Rear
Hub Widths
Adapters available for purchase seperately for QR and 12mm front, 12 mm x 135 mm rear
Pawls
24 point engagement, double row pawls
Seals
Polymer labyrinth type seals, O-RINGS
Hub Weights
124g front 235g Rear
Rotor Mount
6 Bolt